Add PDF Security options to PDF
The PDF file format has several advantages compared to office files. For starters the lay-out of your document looks the same to all viewers. Another advantage is the option to add security settings to disable changes to be made to the document. Using Fabreasy the following options can be set.
Disable file editing (do not allow changes)
Document encryption (the PDF file can't be searched without opening the file first)
Require a password to open the document (without the password access to the PDF file is blocked)
PDF-document Encryption
The image below shows the PDF Security tab. This tab enables you to set the security options of the PDF file. When sending the PDF file by email or placing it online in any way search engines are not able to index the content of the PDF file. Using the pull down all encryption levels are showed. Behind the encryption level the requirements to open the document is showed. The most familiar PDF reader is Adobe Reader. But there are several alternatives like Nitro PDF Reader en Foxit Reader.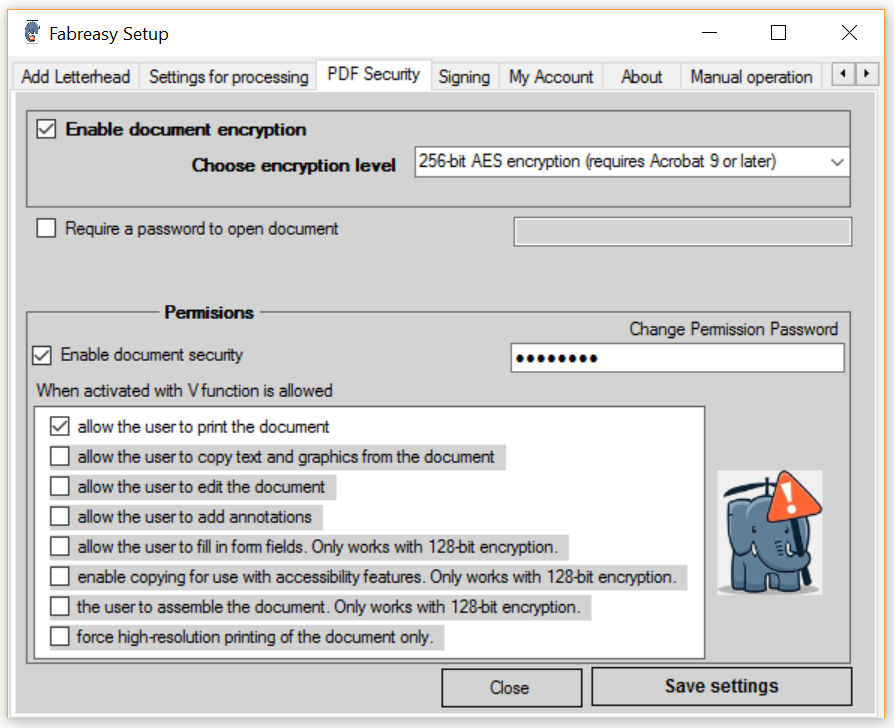 PDF Password Security
When the second option is enabled the viewer needs to type in a password before the content of the PDF document is showed. Below a window is showed of the PDF Reader while opening the PDF file.

Enable document security options
Using the Fabreasy 'PDF Security' tab within Fabreasy Setup enables you to apply or deny specific PDF security settings of the PDF file. By selecting one of the options below it allows the user to use this specific security option:
Allow the user to print the document
Allow the user to copy text and grapics from the document
Allow the user to edit the document
Allow the user to add annotations
Allow the user to to fill in form fields. Only works with 128-bit encryption.
the user to assemble the doucment. Only works with 128-bit encryption.
force high resolution printing of the document only
Disable adding notes (annotations) to PDF file
Some PDF users complain about the annoying notes which are added to PDF files after reviewing. Most of the time these notes do not offer a clear overview and make a mess of the document. Adding notes can easily be disabled by not selecting 'alow user to add annotations'.