Fabreasy virtual stationery management
Within a few minutes you have installed your virtual stationery solution. Whether you print from Word, Excel, Exact or basically from any software that you can print from, all software will be using from now on the same virtual stationery. If something changes in your digital letterhead you will have to make the changes in only one place.
Print and e-mail including virtual stationery
Fabreasy helps you to organize your document workflow. You can print an Word or Excel document simply by clicking on the Print button. Your document is sent to the selected printer and printed including your letterhead template. Pre-printed stationery paper is history. Just click on the e-mail button and your document is converted to PDF. It includes your letterhead and is attached to a new email message.
Save money on your virtual stationery workflow
More and more companies shift to digital document workflows. This helps you save printing costs with regard to the environment. Fabreasy helps to simplify your stationery workflow and helps you optimize your document management system. Fabreasy: your virtual stationery always at hand!
For whom..
Fabreasy is being used by lawyers, administration and accounting firms. But also by many other companies that use Word or Excel for example billing purposes. Try it for free and a Virtual Stationery license starts at 5 euro. Sounds interesting? Download Fabreasy now and get started!
Creating PDF Files: three options
After installing Fabreasy you will find three useful options to create PDF files:
The Office Ribbon for Word and Excel enables you to create PDF files by one click of a button.
The Fabreasy PDF Creator (printer) enables you to create PDF files from any application which allows you to print.
And finally Fabreasy drag-and-drop which creates PDF files by drag-and-drop of one Office file or even a complete tree of folders.
All three options enable direct output to folder, email or printer. Click on the toggle button to add or disable your letterhead template. The PDF file created from Word, Excel and for example your CRM software all use the same Stationery. Select your Stationery PDF file you received from your designer or design your digital letterhead online using our amazing online Virtual Stationery Editor.
Fabreasy – Online Virtual Stationery Editor
The above video shows you how to create your online letterhead and save it in the Fabreasy cloud. Fabreasy PDF Creator for Windows uses this online letterhead. This means all applications are using the same digital letterhead when processed by Fabreasy.
When information needs to be updated, like an email address, website or telephone number, you need to do it in only in one place: the Fabreasy online Virtual Stationery editor.
Fabreasy - Virtual Stationery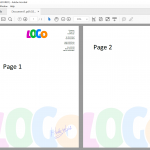 Fabreasy Online Virtual Stationery Editor
9/10
Virtual Stationery Cloud integration
10/10
Multiple stationery sets / easy selection
10/10
Pros
Integrates with Fabreasy drag-and-drop, PDF Printer and Office Ribbon
Share your Virtual Stationery with your designer
Direct output to file, email and printer
Cons
Windows only
No corporate license yet