Fabreasy PDF splitter
When installing Fabreasy PDF Creator two extra tools are installed to help you merge or split PDF files. The Fabreasy PDF Splitter is installed when installing Fabreasy PDF Creator. Many companies use Excel and Word for their mail merges. The fields are stored in an Excel spreadsheet and used in a Word letter. When starting the merge the output is usually sent to a printer containing company letterhead / stationery paper.
Recently a client asked for a solution to help them to create a more digital solution. At this time they were printing their mail merge on stationery paper. Next they scan their mail merge into different PDF documents on their server. Now their document contains the correct information on their stationery paper and are ready to be send by email. This is done by starting an email message manually and attach the correct document. As you can see a time consuming and paper wasting operation.
PDF Split
Using the PDF Splitter solution from Fabreasy PDF Creator this process had become much more easy and faster. The first part of the operation is still the same. This means Excel and Word are used to create the mail merge. This time the result is not send to a physical printer but to a PDF Printer. The result is a PDF file containing all the relevant data but in one PDF file. The next part explains how to use Fabreasy PDF Creator PDF Splitter
Using PDF Splitter
After creating the mail merge into a single PDF file it is time to start operate PDF Splitter installed during Fabreasy PDF Creator.
Start Fabreasy PDF Splitter by typing 'Fabreasy PDF Splitter' at your start menu. The icon shows up and click on the icon to start the program. The following windows shows up: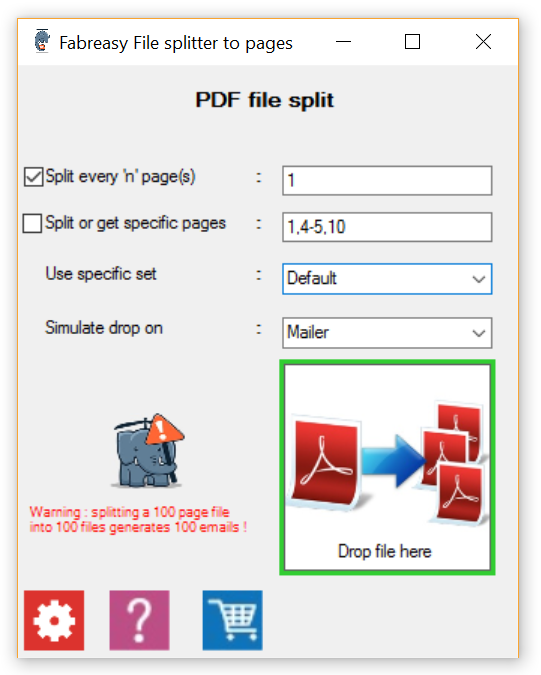 You are able to set how the input PDF file is split. It can be set at the specific page range but you can also select specific page ranges. E.g. when splitting a 50 page PDF every 2 pages results into 25 PDF files. When 'Simulate drop on : Mailer' is selected 25 email messages are started separately. Each containing an attached PDF file. A email client like Outlook or Thunderbird is required.
Adding stationery of letterhead to each split PDF file
If you want to add your stationery of letterhead to these split files please start Fabreasy Setup. You can easily select the PDF letterhead / digital stationery. Please note that a each file that is split from the original is handled as a separate file.
Enter Fabreasy Setup by clicking on the Setup icon (Red Icon, next to the question mark icon, see image above). At the 'Add Letterhead' tab you can choose your Letterhead settings. Please refer to this page for more details. Adding cover pages is also an option. If you require more specific settings for your letterhead please check this section for details.